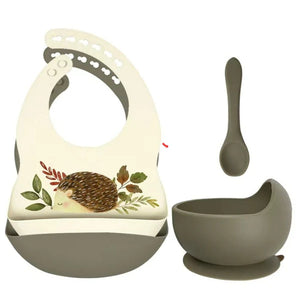 Set of Silicone Bibs, Spoon and Bowl.
2 silicone bibs, bowl with suction cup and a silicone spoon.
The bibs are adjustable, and easy to remove with a damp cloth. Forget the bibs with stains that won't come out in the wash! The bowl has a suction cup, and stays firmly in place. Want to learn to eat yourself? The silicone spoon is soft and flexible.
Colour: Grey
Material: Silicone
Values: Dutch Design, Zero Waste, Cruelty Free, Vegan, Natural Resources, Non Toxic